Part III. Parallel Sections: Attack of the Clones & The Empire Strikes Back
Every Star Wars film starts the same way: A title card reads "A long time ago in a galaxy far, far away." The main title zooms out over a field of stars. The episode number, name, and three paragraphs of text scroll up and away and fade into infinity. And finally, the camera pans down.
Okay, well almost every Star Wars film starts the same way. Immediately after the opening crawl in Attack of the Clones, for the first time in a Star Wars film, the camera pans up. So, why the change in direction? What, if anything, is Lucas up to? Literally.
To begin with, it's no secret that Clones corresponds closely to Empire (much like how Menace corresponds to A New Hope). In both films, there's a chase through an asteroid field, a bounty hunter named Fett, a dismembered C3PO, and a Skywalker who gets a limb amputated, just to name a few. Lucas noted the parallels just prior to the film's release:
It starts out as a mystery—who's trying to kill the Senator, and why? But that's then juxtaposed against the love story, so I've got two stories being told simultaneously right from the beginning. I've done that before in the other movie, so stylistically, I'm staying reasonably consistent—not with The Phantom Menace, but more with The Empire Strikes Back. There are a lot of reverberations, scenes that are reprised, between Empire and [Clones]. 1
Now, if we look at Clones in terms of the larger ring pattern, the film corresponds to Empire in the same way that Menace corresponds to Jedi, reinterpreting plot points, visuals, and other elements from beginning to end. In other words, Empire is fully reimagined within the context of its corresponding episode in the ring.
Except for one very important thing: Clones turns things on their head.
Again, to better understand what's going on, here's a general breakdown of just some of the events in both films: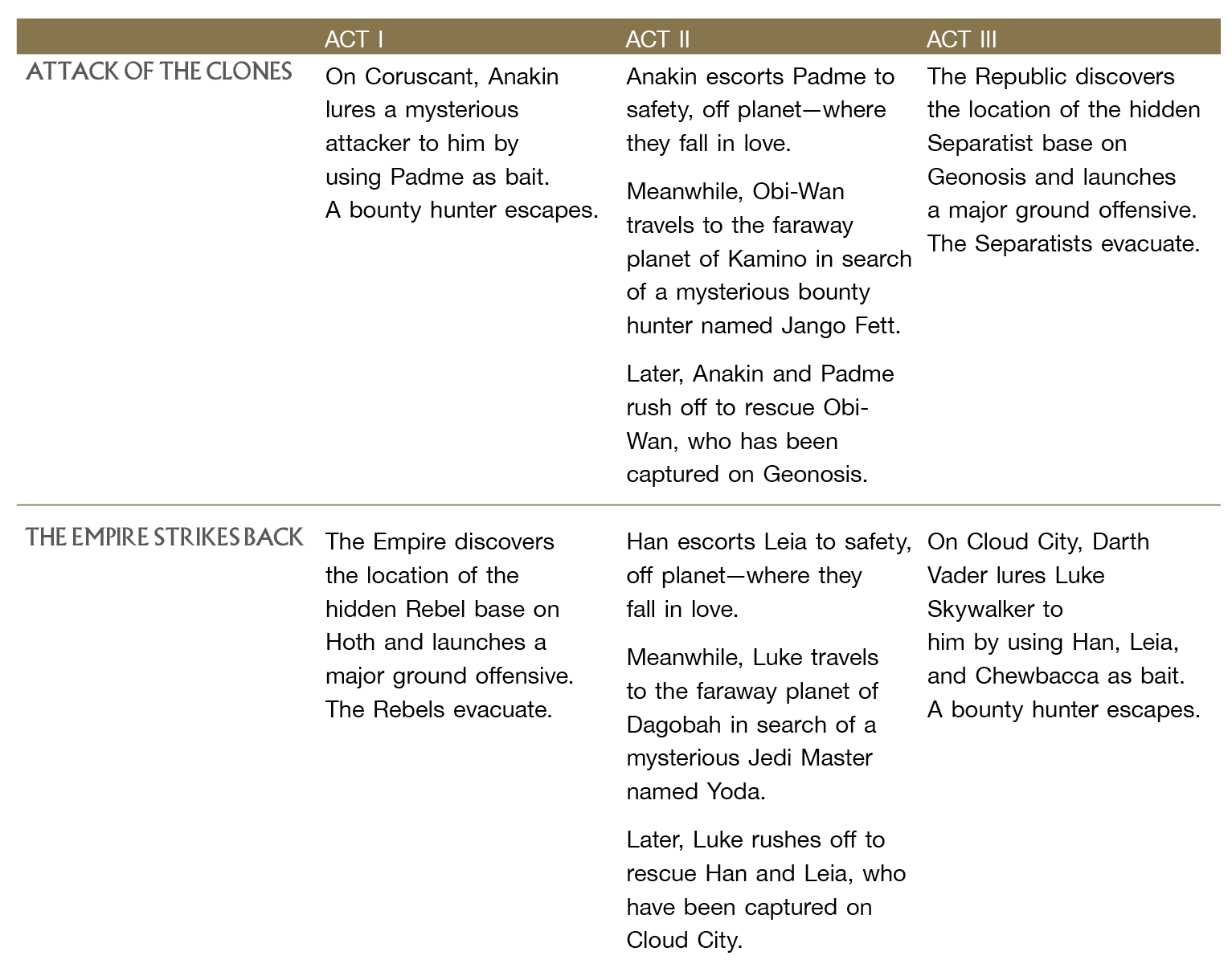 Like the previous pair of films, the similarities are quite apparent. Only this time, some of the events in Acts I and III have switched positions so that parts of the plot unfold in the opposite direction. In other words, Clones inverts the structure of its corresponding film in the ring composition—and creates a kind of mirror-image symmetry between the films in the process.
So, here we see Lucas introducing an important new aspect to the ring structure. But to fully understand what he's doing, we need to do a little comparison.
First, let's take a closer look at the opening moments of Clones: A large Naboo Cruiser and three small escort ships (two in front, one behind) slowly descend into the galactic capital of Coruscant.
Now compare this with a sequence near the conclusion of Empire: Luke, dangling from a weather vane under Cloud City, is rescued by Leia and Lando, and together they speed away in the Millennium Falcon—hotly pursued by three Tie Fighters.
So, whereas Empire ends with three small ships chasing a large ship that's escaping a city in the clouds, Clones begins with three small ships escorting a large ship that's landing among mile-high skyscrapers shrouded in dense fog—a veritable city in the clouds.
In other words, Clones begins where Empire ends.
Not only that, but Clones ends where Empire begins: in the underground caverns of a barren wasteland. Geonosis in Clones and Hoth in Empire.
However, it's important to point out that Clones is not telling the story of Empire in reverse. That is, the change in direction between the films should not be read in terms of going backwards and forwards. Instead, it should be read in terms of high and low.
To put it simply, Clones starts in a high place (city in the clouds) and ends in a low place (caverns) and Empire starts low and ends high. What this means is that when the films are seen as parallel sections in the ring composition, the structure of Clones can be thought of as "descending" and the structure of Empire can be thought of as "ascending."
Therefore, Clones marks the point at which the ring structure begins to descend towards the midpoint of the ring at the end of Sith (the ring's lowest point). After that, the ring will then begin to ascend back towards the starting point. This is one of the reasons, then, why Lucas structured the films as kind of opposites.
The change in direction also serves a significant thematic purpose: it illustrates the beginning of Anakin's metaphorical "descent into hell." As the story begins its descent into darkness in Clones, the ring structure itself, conveyed through the film's structure, also begins to descend. And as we'll see in the next section, when Anakin begins his metaphorical "ascent to light" in A New Hope, the ring structure will also begin to ascend. So, rather impressively, form reflects content and content reflects form—as is often the case in poetry.
And the pan up after the opening crawl, as you may have guessed by now, is a simple visual cue that's used to signal both the literal and figurative changes in the story's direction. (The opening shot is a fairly standard Star Wars opening, it's just upside down. The planet is at the top of the frame, instead of the bottom. And the ship flies in from the bottom, rather than the top. The Queen's ship is upside down relative to the planet so it flips over.)
The film's opening visuals of descending aircraft also help set the trajectory, as does the subtextually loaded opening line, spoken by a lieutenant aboard the Naboo cruiser: "Senator Amidala, we're making our final approach into Coruscant."
That being said, when viewing Clones from this new perspective, the subtle correspondences between the film's early scenes and Empire's later scenes become apparent.
The Beginning and the End
From the dizzying heights of Senator Amidala's high-rise apartment on Coruscant to the heavenly metropolis in the skies over Bespin, both film's feature a sequence that starts at breathtaking (and morally symbolic) heights and takes its characters on a downward journey into the city's dark underbelly, where the sequence ends.
As mentioned above, Anakin uses Padme to lure out an assassin during the sequence in Clones:
Obi-Wan checks a palm-sized view scanner he has pulled out of his utility belt. It shows a shot of Artoo by the door, but no sign of Padme on the bed.
OBI-WAN: What's going on?
Anakin shrugs.
ANAKIN: She covered that camera. I don't think she liked me watching her.
OBI-WAN: What is she thinking?
ANAKIN: She programmed Artoo to warn us if there's an intruder.
OBI-WAN: It's not an intruder I'm worried about. There are many other ways to kill a Senator.
ANAKIN: I know, but we also want to catch this assassin. Don't we, Master?
OBI-WAN: You're using her as bait?
ANAKIN: It was her idea… No harm will come to her. I can sense everything going on in that room. Trust me. 2
And in the sequence in Empire, Vader sets a trap for Luke using Han, Leia, and Chewbacca:
The cell door slides open. Lando and two of his guards enter.
LEIA: Lando.
HAN: Get out of here, Lando!
LANDO: Shut up and listen! Vader has agreed to turn Leia and Chewie over to me.
HAN: Over to you?
LANDO: They'll have to stay here, but at least they'll be safe.
LEIA: What about Han?
LANDO: Vader's giving him to the bounty hunter.
LEIA: Vader wants us all dead.
LANDO: He doesn't want you at all. He's after somebody called Skywalker.
HAN: Luke?
LANDO: Lord Vader has set a trap for him.
Leia's mind is racing.
LEIA: And we're the bait. 3
In Clones, the hero awaits the villain and in Empire the villain awaits the hero (although, things don't go so well for the "aggressor" in both instances). Also, notice the "Venetian blinds" lighting effect in Padme's room and the Cloud City cell.
In both films, the trap eventually leads to a character breaking through a window.
Significantly, both Clones and Empire feature the hero falling from a great height. Luke, who would rather die than join Vader, steps off a ledge and plummets down an airshaft in an act of self-sacrifice. Anakin, on the other hand, leaps from a speeder into a traffic-filled sky in an amazing act of hubris.
Like the Naboo cruiser descending through the skies of Coruscant, Anakin's fall is another good example of the "descent motif" employed early in the film. And if you play close attention you'll notice that Clones, like Empire, is rife with this kind of symbolic descent imagery that tends to serve several purposes, chief among them: it reflects the characters' (and Republic's) potential and actual moral descent—creating a strong thematic link between episodes.
In The Journey of Luke Skywalker, Jungian analyst Steven Galipeau adds that "Descent symbolism is generally related to achieving psychological and emotional depth, entering the unconscious and becoming more human. In Jungian terms, symbols of descent in dreams often refer to becoming more grounded or down-to-earth." 4
Continuing through the films, both the Coruscant and Cloud City sequences lead ever downward, deeper and darker into the bowels of the city, where a character ultimately loses an appendage to a lightsaber.
At this point it appears as though the echoes between Clones and Empire almost overlap, as both films are bookended with characters losing appendages. So, the bounty hunter losing her arm in the beginning of Clones also echoes the Wampa snow monster losing his arm at the beginning of Empire. And both of those instances are used to foreshadow the main character losing an appendage at the end of the film.
Here we also see Clones corresponding with Empire through the shared motif of dismemberment, which is commonly found in myths and fairy tales. Here's how Lucas describes it on Empire's DVD commentary track, when C3PO is disassembled:
It's a motif of the movies. In this case it's a physical manifestation but in the rest of [the movies], it's either an emotional manifestation or a personality manifestation, somebody who's sort of ripped themselves apart and is trying to put themselves back together again. So it's fun when you can take a literal character, in this case a tin woodsmen or Humpty Dumpty and break them all apart and have part of the movie be about how he gets put back together again physically, which is what Luke is trying to do, and what Han is doing in terms of his morality. But more importantly, in the end, it's what Darth Vader is trying to do. 5
Finally, plot points at the end of each sequence also correspond. In Empire, at the bottom of Cloud City, a badly wounded Luke hangs upside down and is rescued by his friends. In Clones, outside of a nightclub at the bottom of Coruscant, the injured bounty hunter is not rescued by her "friend" Jango Fett, but instead betrayed and killed by him. Of course, there's also a betrayal at this point in Empire when Lando Calrissian double-crosses Han on Cloud City.
Most telling, though, is that Jango Fett avoids capture and flees the city, much like how Boba Fett escapes Bespin with Han Solo frozen in carbonite—meaning that both sequences end on a similar turning point that propels us into the next part of the story: characters need to find a bounty hunter.
The End and the Beginning
Seeing Clones in light of its topsy-turvy nature also reveals connections between the end of the film, when the Republic's clone army attacks the Separatists' droid forces on the Mars-like redrock planet of Geonosis, and the beginning of Empire, when Imperial forces invade the Rebels' headquarters on the icy planet Hoth.
For instance, the backdrops for both sequences are rocky, barren landscapes with cavernous interior locations—hangars, command centers, tunnels, and walkways—carved out of the environment.
David Begor astutely observes in his "Defense of the Clones" that both sequences cut between an invading army and an evacuating secret Rebel base. 6 (It's also hard not to notice that one of the Republic's enormous six-legged ground vehicles recalls the Empire's iconic AT-AT Walkers.)
But, as Begor rightly points out, there's an important distinction between the two sequences that adds significant thematic complexity to the saga: "As the title of [Clones] suggests, the Republic is the aggressor in the final battle, not the Separatists." 7 So, by deliberately repeating and varying the Hoth sequence, and including such details as the precursor to the Imperial walker, Lucas "invites further doubt as to the moral virtue of the Republican assault, as does the generally right-to-left direction of their attack (the positive direction in film being of course left-to-right) and the reddish-brown haze that masks the battlescape. Clouds are symbols of moral ambiguity and blindness: this battle is relentlessly clouded by the Dark Side." 8
Other small details between the battle sequences also correspond. Thanks to quick thinking from a Skywalker, both Rebel and Republic forces successfully destroy enemy ships.
In Empire:
LUKE: (into comlink) Rouge Group, use your harpoons and tow cables. Go for the legs. It might be our only chance of stopping them. 9
And in Clones:
ANAKIN: Aim right above the fuel cells.
Laser fire pelts the base of the TECHNO UNION ship. Rocked with explosions, it begins to tilt over and the Gunships split up, flying past. 10
Minutes into Empire, Han enters the main hangar bay of Echo Base, the Rebel headquarters carved out of the planet's frozen surface. It's probably no coincidence, then, that the battle on Geonosis reaches its climax in Separatist leader Count Dooku's secret hangar, a large rock-cut cave.
In the ensuing lightsaber duel with Dooku, Anakin loses his arm and is rendered unconscious. This echoes the start of Empire when Luke wakes up in the Wampa's ice cave—after being equally knocked out cold—and cuts off the snow creature's arm.
And just as Solo manages a last-minute escape before Imperial forces blast the Falcon, Dooku escapes Geonosis moments before Republic forces arrive.
In the closing montage of Clones, massive Republic assault ships, an early incarnation of the Star Destroyer, lift into space from Coruscant, on their way to thousands of star systems as the Great Clone War has begun. This is a clever inversion of Empire's opening, where a Star Destroyer moves through space dispatching tiny probe droids down to planets all across the galaxy in search of Luke and the Rebels.
This brings Clones all the way to the beginning of Empire. So, just to reiterate, elements at the beginning of Clones correspond to elements at the end of Empire, and elements at the end of Clones correspond to elements at the beginning of Empire.
At the same time, however, moving forward through Clones reveals connections to Empire that run parallel, just like the connections between Menace and Jedi. In other words, beginning to beginning, middle to middle, and end to end. And the elements tend to correspond in the same way they did between Menace and Jedi. That is, interpreting the same general idea in a different way.
Beginnings, Middles, and Ends
Both films begin with different interpretations of descending spacecraft, an explosion, and a surprise attack. In Empire, a probe droid zooms down to Hoth and strikes the snowy landscape with an explosion. Luke notices the impact and goes to investigate when he's suddenly struck by the Wampa. In Clones, a Naboo cruiser descends into Coruscant and explodes seconds after landing, in a failed assassination attempt on Senator Amidala that instead claims the life of her decoy.
In both instances, the injured character ends up on the ground (laying in opposite directions).
Also, notice how the "blood markings" are placed on opposite sides of the characters' faces.
A key plot point involving a kind of probe droid occurs early in the first act of both films. In Episode II, an assassin probe droid releases poisonous centipede-like creatures in the second attempt on Padme's life. In Episode V, an Imperial probe droid alerts the Empire to the location of the secret Rebel base on Hoth.
Mirroring the overall narrative structure of Empire, Clones places its main characters together in the beginning, splits them apart in the middle (cutting back and forth between two parallel plotlines), and reunites them at the end when the plotlines converge in a dark climax.
In Empire, Luke travels to Dagobah in search of the mysterious Yoda, crash landing on the remote planet about 40 minutes into the film. At the same time in Clones, Obi-Wan's investigation into the assassination attempts on Senator Amidala leads him to Kamino, a planet that was erased from the Jedi archives. Unsurprisingly, both sequences correspond to each other in a number of interesting details.
As Luke approaches Dagobah in his X-Wing, Luke tells R2 he's picking up "massive life-form readings" and that "there's something alive down there." Dagobah is a wet and tropical world, a swamp planet teeming with primitive life.
Lucas strikes a similar chord with Kamino, a stormy planet covered entirely by oceans. Mythmaking, a behind-the-scenes look at Attack of the Clones, explains that "Lucas's watery vision of Kamino stemmed from the logic that, because the sea is the cradle of all biological evolution, cloners might choose to base their operations on an ocean planet." 11
When Luke first meets Yoda, he doesn't realize that the little creature is actually the Jedi Master he's looking for. Yoda, meanwhile, withholds his true identity from Luke and acts like an annoying child to test his patience and attitude.
Obi-Wan's first meeting with the Kaminoans puts an equally fresh spin on the old plot device of mistaken identity. Lama Su, the Prime Minister of Kamino, mistakes Obi-Wan as an emissary of the mysterious Jedi who ordered the creation of a clone army a decade before. Obi-Wan reveals his identity, but withholds the true nature of his mission and improvises to uncover the secrets behind the clone army.
The physical appearances of Yoda and the Kaminoans also reflect each other. Unlike Yoda's diminutive stature, crippled hobble, and broken syntax, the Kaminoans are very tall, long-necked creatures with fluid "Tai-chi type movements," 12 as Clones designer Rob Coleman puts it, and voices that are measured and melodic.
Meanwhile in Clones, a romance begins to blossom between Anakin and Padme, much like it does between Han and Leia in Empire. The "first kiss" scene in both episodes occurs at roughly the same time, and, in a subtle touch, both kisses are cut short. Also note how the actors' positions are reversed between shots.
Back on Dagobah, inside the "mysterious creature's" cramped hut, Luke sits by the fireplace and grows increasingly impatient with the creature to take him to see Yoda and eventually loses his temper. Disappointed, Yoda finally reveals his true identity and tells the spirit of Obi-Wan that Luke is not ready to be to a Jedi. When Luke disagrees, Yoda chastises him:
Ready, are you? What know you of ready? For eight hundred years have I trained Jedi. My own counsel will I keep on who is to be trained! A Jedi must have the deepest commitment, the most serious mind. (to the invisible Ben, indicating Luke) This one a long time have I watched. Never his mind on where he was. Hmm? What he was doing. Hmph. Adventure. Heh! Excitement. Heh! A Jedi craves not these things. (turning to Luke) You are reckless! 13
This is a critical scene for a couple of reasons. First, in screenwriting parlance, it represents the major plot point know as the "midpoint"—a scene or event approximately halfway through the script that often involves a change of character, reversal of some kind, or revelation that changes the direction of the story (and prevents the long second act from sagging).
In this case, the strange, little creature reveals that he is, in fact, the Jedi Master Yoda. And with Obi-Wan's encouragement, Yoda reluctantly agrees to train Luke, pushing the plot in a new direction for the second half of the film.
Perhaps more importantly, though, is that the scene gives us an inner view of Luke that for the first time truly exposes his flaws: impatience, recklessness, and anger. ("Much anger in him," says Yoda, "like his father.") This is a very different character from the innocent fresh-off-the-farm boy from A New Hope.
Luke reveals the extent of his emotional immaturity when he tells Yoda, "I won't fail you. I'm not afraid." But Yoda responds to Luke's denial of fear with a grave warning: "Oh, you will be. You will be." Galipeau puts this in psychological terms for us:
The integration of our emotions is critical to our maturation process … denied or repressed feelings are bound to erupt sooner or later. The challenge for us is to bear them—that is, not to lose patience. Then we must understand these feelings and direct them in more differentiated ways … Luke underestimates the depth and nature of his emotional life, especially on an archetypal level. An approach to life that invites one to "stretch out with your feelings" leaves one precariously vulnerable to eruptions of hidden emotions. Luke, according to Yoda, will experience fear he cannot even imagine. 14
Notice the interplay between this scene and the midpoint scene in Clones. Anakin and Padme sit together—in an intimate fire-lit alcove no less—and talk about their growing feelings for each other and the impossibility of sharing a life together. As Lucas describes it:
This is one of the pivotal scenes in their relationship where he reveals the pain and suffering he's been going through. It's intended to be overly dramatic, almost overly operatic in its emotional intensity on his part. He's young and he's spilling his guts out to her … In relation to their emotional maturity, he is much more impetuous and immature. She is older, and more reality based and can look forward and see the consequences of their actions. She's not going to let her emotions run rampant. 15
Now for the first time Anakin's internal conflict, like Luke's, is laid bare and his flaws take center stage. He even shows a willingness to openly defy the Jedi code, which forbids emotional attachments, when he suggests that they could keep their love a secret. At this point, you can almost hear Yoda's words to Luke echoing through the scene. "A Jedi must have the deepest commitment, the most serious mind." Anakin, too, is reckless.
Above all, however, Lucas's skillful use of parallelism is a clear indication that the core psychological issues facing Anakin and Luke are the same. "You will see the father and son going through the exact same things," Lucas says. "It's just that they make difference choices." 16 So, like Luke, Anakin will experience fear he cannot even imagine.
But as Lucas noted shortly after the release of Clones, "The point is not that you're born evil. [Anakin] is a good kid, trying to be a good kid, and he grows up to be a good kid. It's simply that his emotions take him places he can't control." 17
Padme ultimately refuses to go along with Anakin, a "pivotal moment for the rest of the film," says Lucas. 18 And like the midpoint scene in Empire, the decision pushes the plot in a new direction for the remainder of Clones.
As Luke begins his Jedi training on Dagobah, we find him swinging on tree vines, running through the marshy jungles, and doing a front flip with Yoda strapped to his back. (Fun little detail: At almost the same time in Clones at the end of the fight between Obi-Wan and Jango Fett, Obi-Wan swings from a wire and does a backflip.)
Dagobah is, of course, a richly symbolic setting that represents a common mythological motif: the "sacred grove." It's a supernatural world home to magical creatures. Significantly, forests also symbolize the unconscious where inner darkness is usually confronted and the hero is transformed, often through important moments of realization and greater understanding.
Luke's transformation takes place in the magic tree-cave scene. 19 He descends into the cave that is "strong in the dark side of the Force" and sees a vision of Darth Vader. Luke ignites his lightsaber and, as aggressor, decapitates the figure. The severed mask rolls to Luke's feet and explodes, revealing his own face inside. The symbolism, explains Anne Lancashire in her 1981 essay, "Complex Design in The Empire Strikes Back," is quite clear:
The boy Luke, who until now, childlike, has thought of evil as something outside himself, is now beginning to recognize that evil comes from within, that every human being, including himself, contains the potential (or force) for evil (through emotions such as fear, anger, and hatred) as well as for good (through idealism, love, and faith). The evil Luke meets in the magic tree-cave—which he takes there with him, symbolized in the weapons Yoda had advised him to leave behind—is his own emotional dark side, which will destroy him if he does not learn through patience to control it. 20
Luke has come face-to-face with what Carl Jung called the shadow, or the unknown "dark side" of our personality:
Dark both because it tends to consist predominantly of the primitive, negative, socially or religiously depreciated human emotions and impulses like sexual lust, power strivings, selfishness, greed, envy, anger or rage, and due to its unenlightened nature, completely obscured from consciousness. Whatever we deem evil, inferior or unacceptable and deny in ourselves, becomes part of the shadow. 21
Interestingly, Anakin has a similar encounter in Clones. The next time we see Anakin after his emotional conversation with Padme, he is having a nightmare about his mother in pain. And dreams, Jung reminds us, are one way the unconscious bubbles to the surface and expresses
itself. 22
Anakin's feelings for Padme are closely tied to his feelings for his mother, and the fact that he was separated from her at an early age and how that affected him are at the heart of his eventual turn to the dark side.
Anakin decides to return to Tatooine to save his mother, disobeying his mandate to remain on Naboo and protect Padme. Once there, he learns a terrible truth: his mother has been abducted by Tusken Raiders, and is most likely dead.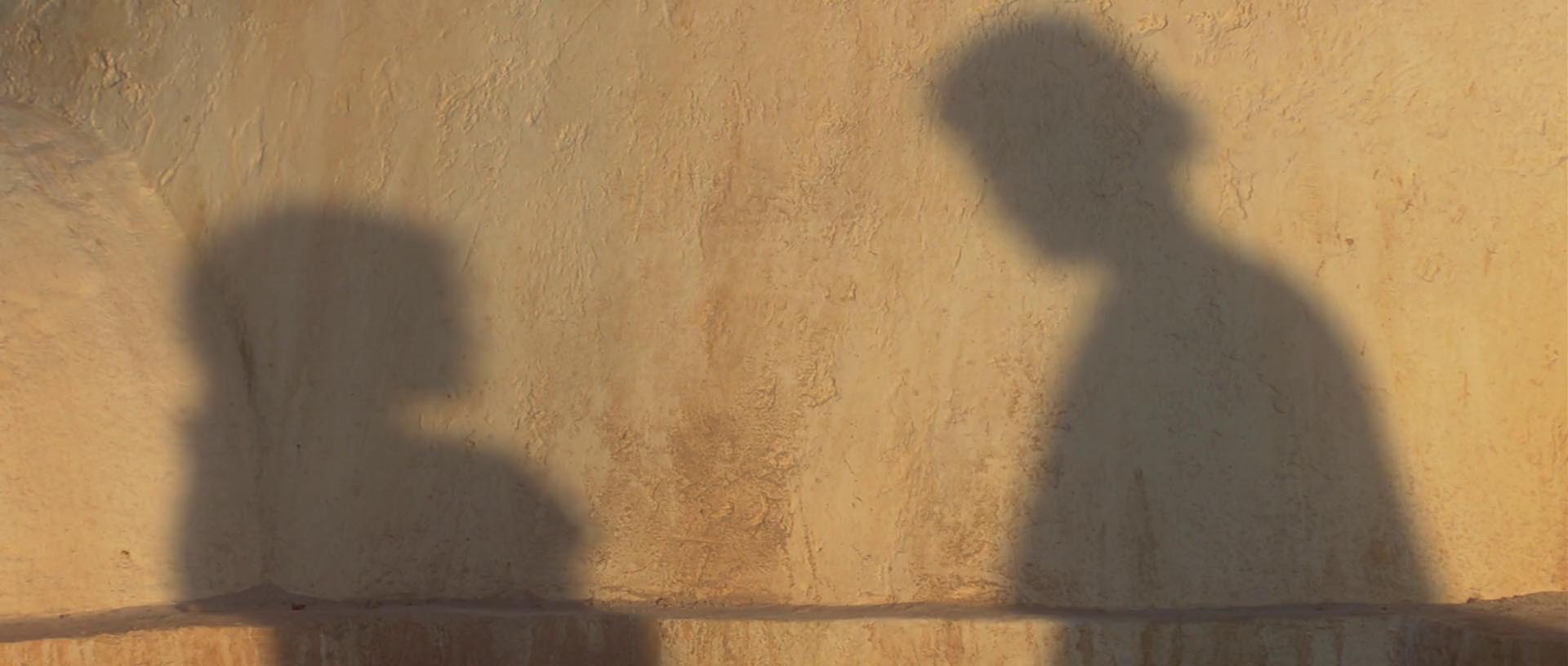 Refusing to accept his mother's fate, Anakin races off on a speeder bike to search for her and eventually finds the Tusken Raider's camp. From high atop a cliff, Anakin jumps (descends) down and sneaks in, where inside a tepee-like hut he finds his mother, bound and tortured, moments before her death. Anakin ignites his lightsaber and in a murderous rampage slaughters the entire tribe, even the women and children.
Anakin, much like his son, has descended into his own darkness and come face-to-face with his shadow, a part of himself he does not yet understand. This is Anakin's magic tree-cave. A visual comparison of the two scenes reveals just how much they correspond.
Both Anakin and Luke enter through a small, round opening.
They move in opposite directions on screen, Anakin left to right, Luke right to left.
Anakin finds his mother. Luke has a vision of his father.
After both Skywalkers succumb to their aggressive impulses, there is a decapitation involving a lightsaber. Anakin swings right to left, Luke swings left to right.
Both films then cut to Yoda, reacting.
You'll also notice that Lucas uses a symbolic red color scheme for Anakin's sequence and a blue one for Luke's.
It should be pointed out, though, that in terms of plot mechanics, Anakin's rash decision to return to Tatooine after he has a nightmare about his mother parallels Luke's decision to impetuously leave Dagobah after he has a premonition of his friends suffering (Luke, like Anakin, is ruled by his emotions and reckless nature and will also learn a terrible truth about a parent). However, the plot point itself happens sooner in Clones. We'll go over potentially why this is in a moment. But right now, let's go back to Kamino.
So, now that we know a little bit about the concept of the shadow, we can start to see how Lucas takes the concept one step further on the watery planet, and creates a unique correspondence between Clones and Empire in the process.
Now, in addition to the individual or personal shadow that Luke and Anakin face, Jung spoke of the dark aspects that are shared by a particular group of people or entire culture. He called this the collective shadow.
And Jung believed that if this "shadow of society" were left uncontrolled and projected onto others, it had the power to create a kind of collective psychosis and overwhelm civilization, exemplified by the horrors of Hitler's Nazi Germany.
Lancashire herself may have been referring to this concept in her essay "Attack of the Clones and the Politics of Star Wars" when she wrote:
War in Clones is depicted as a tool, supported by profit-seeking big business, by means of which manipulative political leaders can achieve power and dominance over naive, greedy, and/or fearful leaders and their followers. Nations, like individuals, can be tempted toward the "dark side"—through ignorance, greed/appetite, and an emotionalism which significantly includes aggressiveness and fear. 23
Part of the problem behind this collective shadow, Jung maintained, was the idea of "mass-mindedness." One author nicely describes it as "the reduction of individuals to anonymous, like-thinking units of humanity, to be manipulated by propaganda and advertising into fulfilling whatever function is required of them by those in power." 24
Star Wars fans can probably see where this is going.
When Obi-Wan travels to the aptly "hidden" planet (think hidden emotions of society at large), he lands in Tipoca City, a sleek, stilted structure that rises above the violent seas. (Water, of course, is often associated with latent emotions and, as Jung wrote, is the "commonest symbol for the unconscious." 25)
Inside the white, sterile, brightly lit interiors of the city, Obi-Wan learns about a massive army of clones the Kaminoans are producing for the Republic, secretly commissioned 10 years before without the knowledge or approval of the Jedi council or the Senate.
Kenobi then takes a rather disturbing tour of the complex and sees the clones in all stages of development, from vast embryonic "hatcheries" to thousands of fully grown soldiers marching in formation.
In The Art of "Attack of the Clones," concept artist Ian McCaig observes, "I guess you could say [the clones] don't have a soul. They're definitely missing something and are treated in a way that's dehumanizing." 26 Another artist, Edwin Natividad, referring to the classroom of adolescent clones, says "It's assembly line learning. No individuality." 27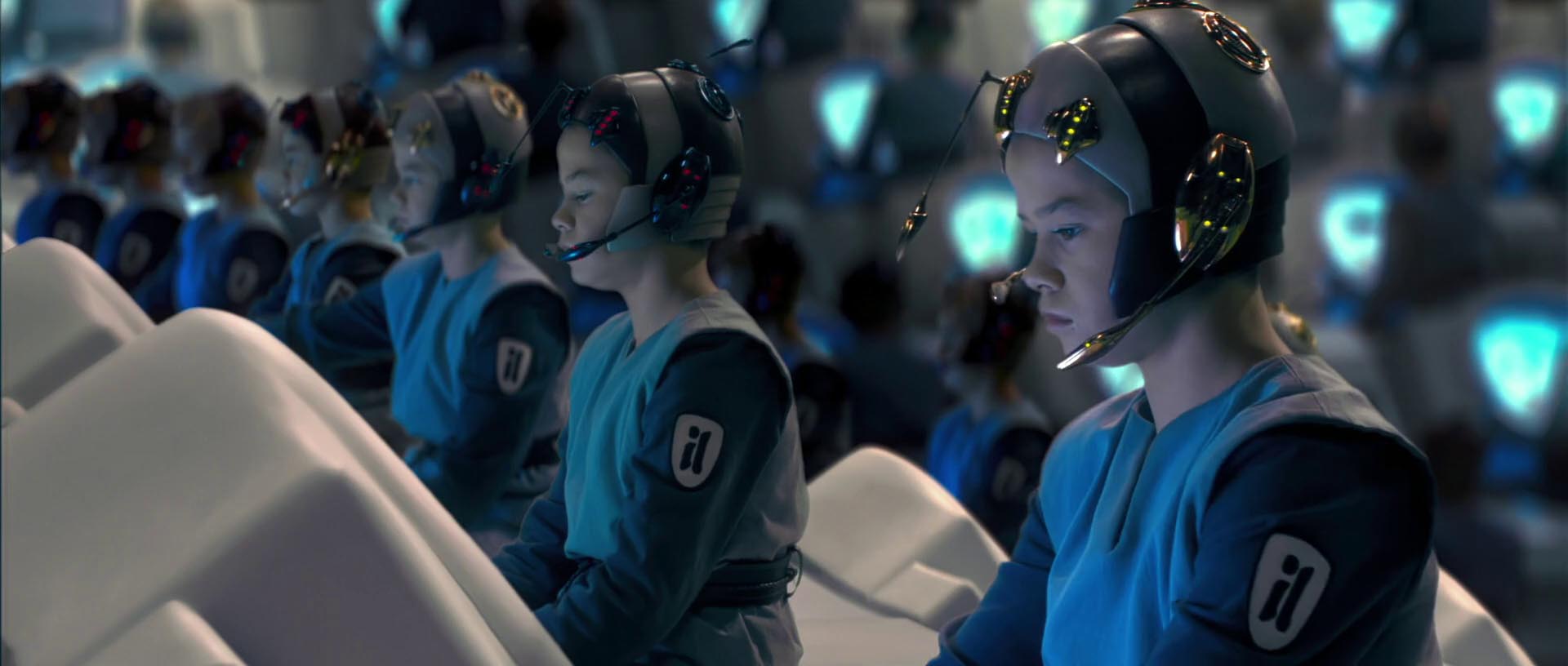 And as described in the book, the Kaminoans are "a species that may be pure science incarnate." 28 (Compare this with Yoda teaching Luke in the ways of the Force, which, with its emphasis on "feelings" and "intuition," exist on the opposite end of the thematic spectrum.)
The advanced technology and genetically minded nature of the Kaminoans come off like a cinematic version of Jung's notion that "One of the chief factors responsible for psychological mass-mindedness is scientific rationalism, which robs the individual of his foundations and his dignity. As a social unit he has lost his individuality and become a mere abstract number in the bureau of statistics." 29 And that, "In so far as society itself is composed of de-individualized persons, it is completely at the mercy of ruthless individualists … the resultant extinction of the individual personality that makes it succumb so readily to a dictator." 30
News from Kenobi about the clones causes greater unrest in the Senate and eventually leads to their bestowing upon Palpatine emergency wartime powers (and remarkably, along with the Jedi, giving implicit approval of breeding humans for war), enabling the Chancellor to use the clones to create a Grand Army of The Republic.
The collective shadow is rearing its ugly head.
"The heaping up of arms," Jung darkly elaborates, "is itself a call to war. Rather must [nations] recognize those psychic conditions under which the unconscious bursts the dykes of consciousness and overwhelms it." 31 In other words, the raging, swollen oceans of Kamino—that is, the deep, unexplored unconscious forces lurking within—threaten to engulf the entire galaxy.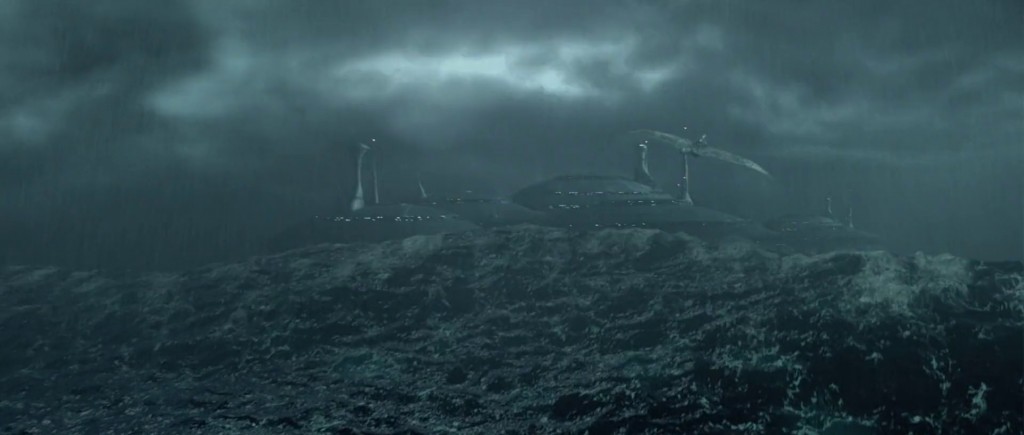 After the tour of the cloning facility, Obi-Wan is taken to meet Jango Fett, who, as the genetic template for the clones, personifies the abstract concept of the collective shadow. Obi-Wan attempts to capture Jango, and following a clash on a rain-drenched landing platform, Jango escapes with his son, Boba.
Obi-Wan "shadows" Jango to Geonosis (reversing the situation in Empire, where Boba Fett tails Han Solo to Cloud City) and discovers a conspiracy of star systems, led by Dooku, that's building its own army and plans to secede from the Republic.
The world of Geonosis is actually inhabited by insect-like creatures that live in underground hives. Lucas based them on termites. 32 And termites, of course, damage wood from the inside out so it's difficult to detect an infestation.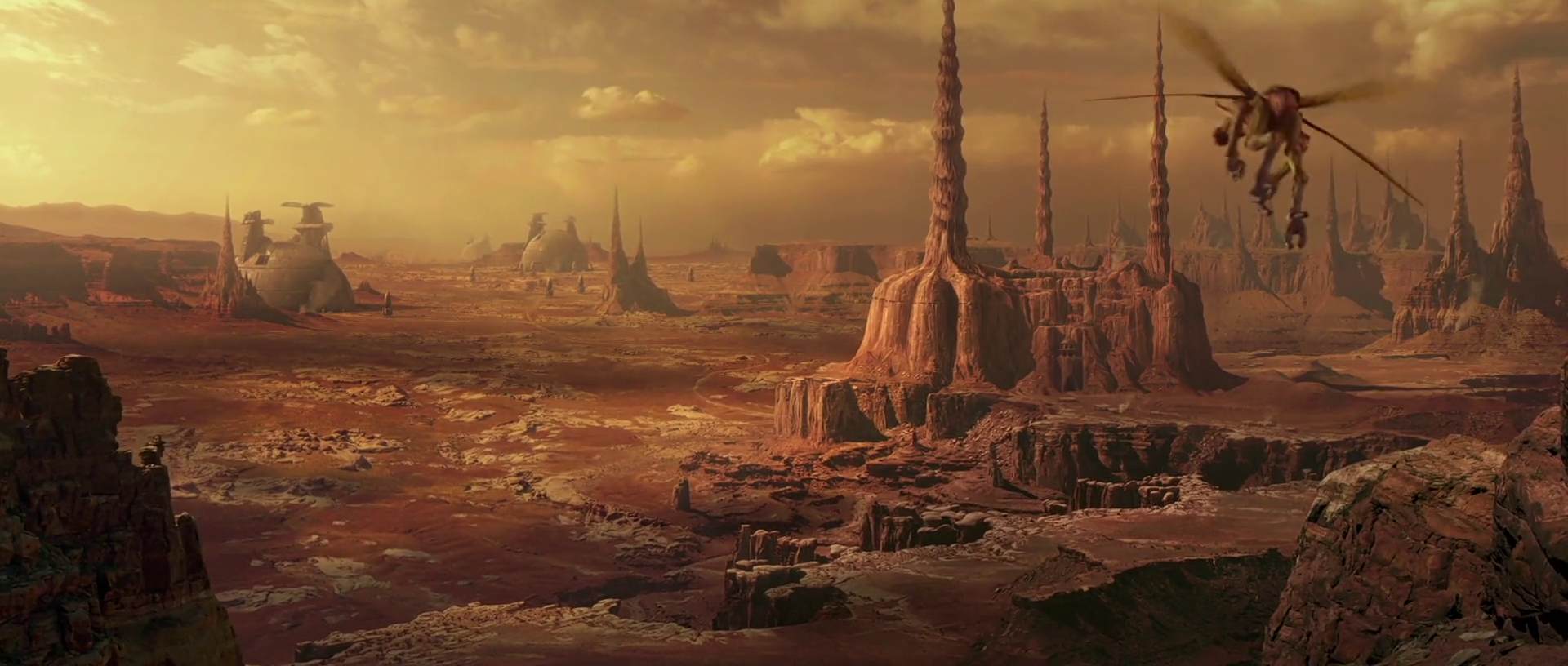 Thus, the backdrop for the film's climactic finale serves as a strikingly apt visual metaphor. As usual, Lancashire hits the nail on the head:
The Republic falls from within, not to attack from without; as with the individual characters in the original trilogy, and also in this new trilogy, the danger—here to the state as a whole—is an unrecognized dark side of emotionalism in general, and especially of anger, love/patriotism, hatred, and fear, in the Republic at large, capitalized upon by ambitious or greedy leaders in order to manipulate events to their own political and economic advantage. 33
Lucas briefly alluded to this point when he spoke with Time magazine in 2002:
All democracies turn into dictatorships—but not by coup. The people give their democracy to a dictator, whether it's Julius Caesar or Napoleon or Adolf Hitler. Ultimately, the general population goes along with the idea … What kinds of things push people and institutions into this direction? […] That's the issue that I've been exploring: How did the Republic turn into the Empire? That's paralleled with: How did Anakin turn into Darth Vader? How does a good person go bad, and how does a democracy become a dictatorship? It isn't that the Empire conquered the Republic, it's that the Empire is the Republic. One day Princess Leia and her friends woke up and said, 'This isn't the Republic anymore, it's the Empire. We are the bad guys.' 34
Around 90 minutes into Clones, Obi-Wan is captured by Dooku's forces. At the same time in Empire, Han and Leia are captured on Cloud City.  35  
And it's here where we start to see potentially why Anakin's nightmare about his mother happens earlier in Clones than its corresponding plot point (Luke's vision about Han and Leia) occurs in Empire.The Han Solo frozen-in-carbonite plot thread left hanging in one of cinema's most memorable cliffhangers doesn't get resolved until the beginning of the next episode, Return of the Jedi. In terms of structure, the first act of Jedi essentially serves, in part, as the third act of Empire.
However, by placing Anakin's ordeal with his mother in the middle of Clones, the film is afforded more time to resolve the plot thread involving Obi-Wan's capture (and move the story forward to the start of the Clone Wars). And since the rescue of Han Solo takes place at the beginning of Jedi, it should come as no surprise then that the rescue of Obi-Wan in Clones contains allusions to the beginning of Jedi. For example:
The allegorical monsters in an arena
An execution scene
Anakin and Luke use a green lightsaber for the first time
Padme and Leia use a chain as a weapon
Jango and Boba Fett both roll around in the dirt and die after a jetpack malfunction
And a decidedly more sexual tone with Padme's midriff-baring outfit and "slave Leia."
What's more, Clones ends on a galactic-sized note that includes its biggest action set piece—an almost endless series of escalating climaxes as the Republic gets drawn into war with the Separatists. This is actually the opposite of Empire, which, with its unique structure, ends on a personal note and places its biggest action sequence (the Battle of Hoth) early in the film.
Ultimately, all of this helps give Clones a more traditional narrative structure, providing a strong counterpoint to Empire's non-traditional structure (Lucas has described Empire as a film "with no beginning or end." 36) More importantly, though, it's further evidence of Lucas using plot and other narrative details to design Clones and Empire as interlocking pieces of the larger ring structure.
As we make our way towards the end of Clones, there's another thing certainly worth noting about the collective shadow: The encounter with the collective shadow (Jango Fett) ultimately ends in the same way as both Anakin and Luke's encounter with the personal shadow.
During the battle in the Geonosis arena, Jedi-turned-soldier Mace Windu—who remarked at the start of the film that Jedi are "keepers of the peace, not soldiers," and also wrongly believed that since Dooku was once a Jedi it wasn't in his "character" to assassinate anyone—charges aggressively at Jango Fett and lobs his head off. So, like the Sand People at the Tusken Camp and the illusion of Vader in the cave, Jango Fett is decapitated. But symbolically, like Anakin and Luke, Mace—representing the Jedi and the greater Republic—is the one who's "lost his head." 37 The Republic is as oblivious to the external threats it faces as it is to the unrecognized evil within.
Then, a young, sorrowful Boba Fett—appropriately bathed in shadow—kneels down and picks up his father's severed head. Like the personal aspects of the shadow illustrated by Luke and Anakin, when the collective aspects erupt into the world, in the form of war, annihilation, and destruction, they will sow the seeds of conflict for generations to come.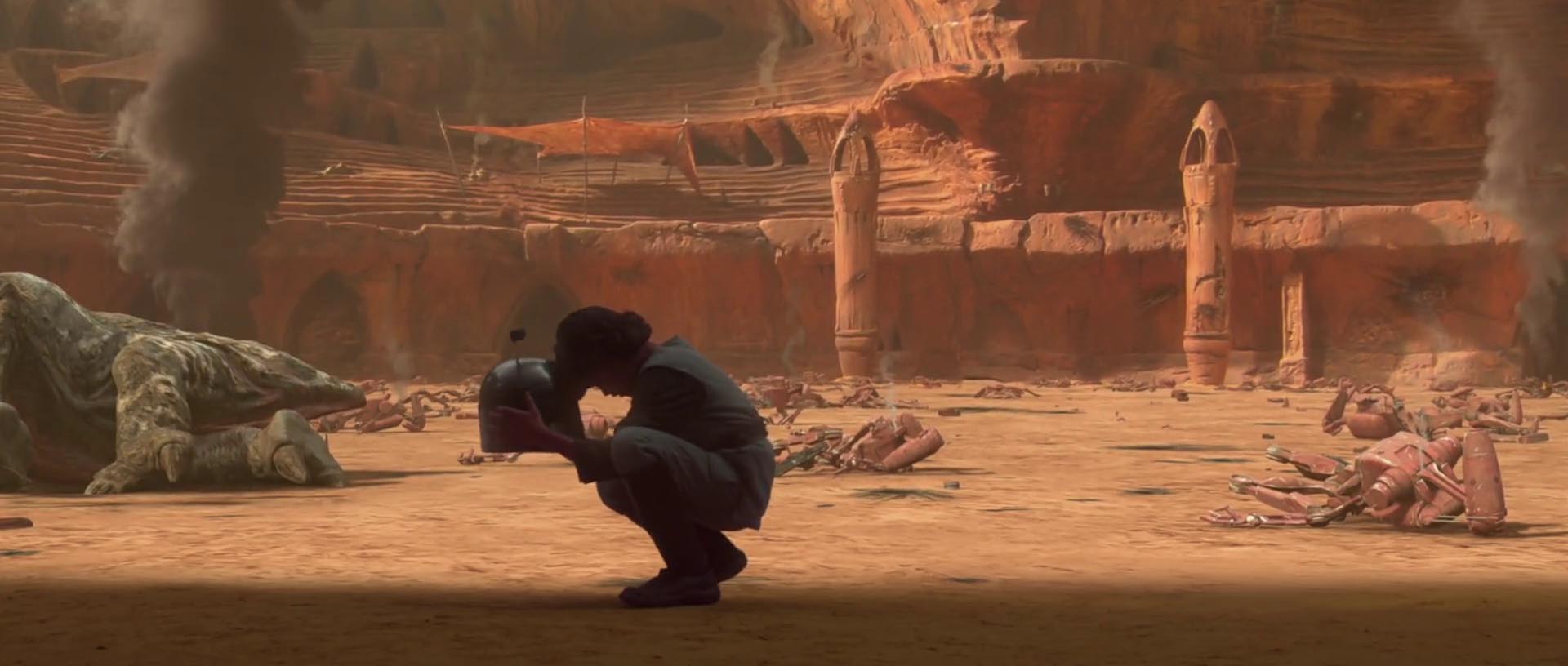 Lastly, color symbolism—which plays an important part in every Star Wars film—connects Clones to Empire in a fairly notable way: Both films deliberately use the same color palette. In an interview with the "Star Wars" Insider magazine, Clones concept designer Ryan Church reveals that: "George wanted the first half of [Clones] to look 'blue' and the second half to look 'red.' Coruscant (at night) and Kamino were the blue planets, Tatooine was neutral warm, and Geonosis (where red light suffuses a landscape of cracked rock and eerie stone mounds that resemble melted bones) was always going to be red." 38
And you may not have noticed, but Empire's moody cinematography also moves from blue to red. Most of the scenes on the planet Hoth are awash in a bluish tint while many scenes on Cloud City include skies and clouds with a reddish-orange tint.
While few moviegoers may consciously notice it, Lucas's subtle use of color connects the films and at the same time reinforces the similar paths of Anakin and Luke and their potential for moral descent.
This brings us to the final matching pair of the ring composition: Revenge of the Sith & A New Hope.